March 5, 2022
Nowadays, people are more and more mobile, yet we all have an even greater need to stay connected than ever before. One way to save money while traveling is to use Wifi calling. If you don't know about this option, here we have all the details you need.
What is Wifi calling?
Although many people may be unfamiliar with Wifi calling, it has actually been around for a few years already. Essentially, Wifi calling allows you to make calls using a Wifi connection (or 4G) instead of using a regular telephone network.
Many apps also allow you to make calls over Wifi. Since most people are probably familiar with Skype, perhaps the best way to understand Wifi calling is to compare it with calls made using this popular app.
Skype allows you to call in two ways: either you can call Skype-to-Skype using Wifi (which is free), or you can use Skype to call landlines or mobiles. If you choose the latter method, you have to pay, but the calls are often considerably cheaper than making calls using a regular telephone.
Wifi calling is the equivalent of using Skype to make calls in this second way. Depending on where you call from and where you are calling, you may still have to pay; the difference is, you can do it directly on your phone without needing to install or use any extra apps to do it.
It is also a handy option when you can't connect to a telephone network but can connect to a Wifi network.
Can I use Wifi calling?
Wifi calling is already enabled on most modern smartphones. Apple was among the pioneers, including it on the iPhone 6 when it was launched in 2014; all iPhones since then have had the ability pre-loaded. Now, most Android phones also include the built-in ability to use Wifi calling – although the details of exactly which phones can use it depend on which model you have as well as your country and operator.
In which countries can it be activated and which mobile operators offer it?
If you have a Wifi calling-enabled smartphone, you can use it wherever you can connect to Wifi or 4G. However, not all countries and not all operators offer the ability to make Wifi calls directly from your phone. Check out this article for further country-specific information regarding this.
Bear in mind, too, that some countries (including China, Vietnam, North Korea, and Cuba) block the use of Wifi calling, so if you are traveling in these countries, you won't be able to use it, even if you have a Wifi connection.
FAQ
How do I use Wifi calling on an iPhone?
Making calls over Wifi using an iPhone is simple, it's just a case of activating it in Settings.
Open the "Settings" app and scroll down to "Cellular".
Click on "Wifi Calling".
Click the toggle to turn Wifi Calling on. When the query message pops up, click "Enable".
You can now make calls using Wifi.

How do I use Wifi calling on the Android?
Enabling Wifi calling on the Android varies depending on the model. These are the steps for the most recent models, e.g. Galaxy S9. For older models, the steps may be slightly different but are essentially the same.
Make sure Wifi is turned on. If it isn't, go to the Quick Settings panel and turn Wifi on.
Open "Connections" and click "More" for more connection settings.
Click on "Wifi calling" and set the toggle to "On".
Click on "Calling preference". This allows you to tell your phone which option to prefer when there is a choice of Wifi or regular phone networks. The options are to prefer a cellular network, to prefer Wifi, to only use cellular or to only use Wifi.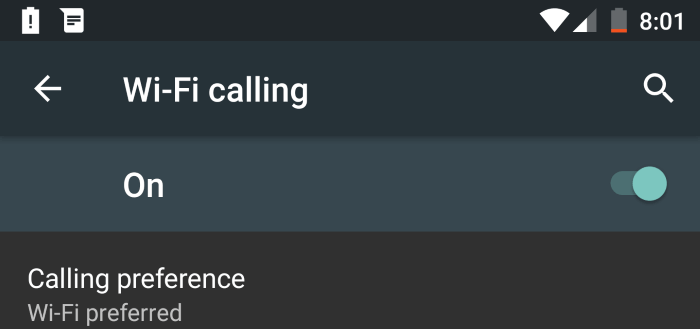 How do I choose preferred voice networks while roaming internationally?
Since Wifi calling uses Wifi and not a regular phone network, you don't need to choose a preferred network to make calls – the call will be made via your home network, not a network in the country where you are making the call.
Can I send SMS via Wifi calling?
Yes, if Wifi calling is activated, your smartphone will also be able to send SMS. Details of how to do this may vary depending on the brand and model of your phone as well as your operator.
Can I make international calls?
Yes, although charges may apply. For example, someone in the US making a call abroad will be billed for the call. The cost will probably be similar to making a regular international call, although this will depend on your operator and your phone contract.
If, for example, a US customer calls a US number (not including premium) from abroad using Wifi, the call will generally be free. Again, this will depend on your specific operator and contract.
The details of pricing for international calls vary from country to country and from operator to operator.
Should GPS be turned on to make a call?
Wifi calling does not depend on GPS so there is no need to activate it to make a Wifi call.
Does Wifi calling work in airplane mode?
Wifi calling requires you to be connected to a Wifi network (or 4G). This means you need to deactivate flight mode to use it.
Can I use Wifi calling with Travelers Wifi?
Yes! You can use Travelers Wifi to make free or cheaper calls wherever you go.
Costs vary but using this option can be a great way to save money on calls, especially when calling home from abroad.
As an example, for most US users, calling a (non-premium) US number over Wifi from within the US will be free. The same is true if calling a US number over Wifi from abroad.
Costs vary from country to country and from operator to operator so it's best to check the details before you start using it. Of course, if you use 4G, it will eat into your data allowance.
Bear in mind that using Wifi calling is certainly not always free. If you want to be sure to avoid all charges, the safest thing to do is to use a Skype-to-Skype call over Wifi (or similar with another app like WhatsApp) to be sure you won't have to pay.
How much data will a call consume?
Although it varies, a good guideline to remember is that a voice call will use about 1MB/minute. If you use Wifi calling for video calls, it will be higher, in the region of 6-8MB/minute.
Stay connected and make calls wherever you travel
Whenever you are away from home, you still need to stay connected on the go. With our practical portable Wifi solution, you can have unlimited internet access for Wifi calling or anything else wherever you travel. Click here for more details.
What are the advantages?
There are several advantages of using Wifi calling, including:
You can call directly from your phone using numbers that you have already saved
You don't need to download any new apps to do it
It is an excellent way to save money on phone calls while traveling abroad
You can use Wifi calling even when there is no phone signal (as long as there is Wifi)