March 6, 2020
We are excited to announce that we expanded our plans beyond daily-rate data and offer new, lower-priced Switzerland wifi data plans designed for your everyday needs! We noticed that more and more users need a strong, stable internet connection on the go for extended period of time, so we launched Travelers Wifi Swiss long-term rental!
From business travelers who need a more reliable and affordable alternative to public wifi, to members of the mobile workforce who cannot get secured fast, reliable wifi or for home office users with a demand for full flexibility!
Starting from only CHF 29.90 a month, with our pocket wifi device you will have an unlimited high-speed connection anywhere in Switzerland, even on high mountain tops! 
Stay connected with your family and friends and have a stable internet connection with no stress.
How Does Travelers Wifi Swiss long-term rental Work?
You can start your Travelers Wifi long-term subscription by clicking the link here. 
Once purchased, there is no activation necessary. Your connection immediately starts, allowing you to get on-demand access to the best mobile wifi speeds available worldwide.
How 

Much

 Does It Cost?
We are offering 3 different packages that are based on the length of your usage. If you are using Travelers Wifi long-term rental for one month, the price will be 99 CHF.
Renting our device for a season that can be anywhere between 3 to 5 months, the price is 199 CHF.
The third type of Travelers Wifi long-term subscription comes with the lowest price of 449 CHF for a whole year.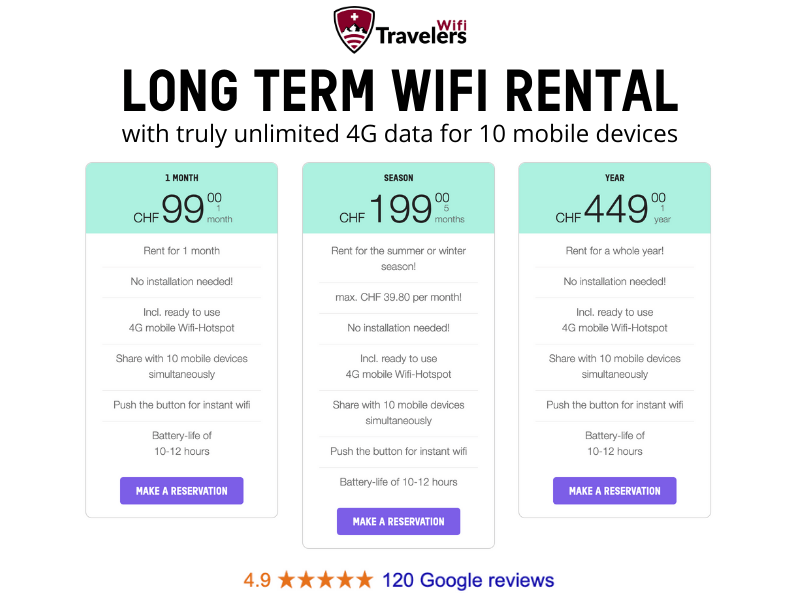 Where to order the device?
Visit Travelers Wifi Swiss long-term rental page here and click on to make a reservation which will take you to a booking form. After you finish the booking process, you will receive an email with all the information about your booking. 
For any additional questions feel free to reach out via email to info@travelerswifi.com.